Choose The Right Probiotics

for Your Kids

Promote a variety of immune response to various irritants and allergens encountered during the growth journey.
G-NiiB Immune Kids SIM03
G-NiiB Immune Kids SIM03 is a microbiome precision formula developed for children aged 1 to 5. Developed over a decade of research on the Asian gut microbiome, this formula precisely identifies the optimal live good bacteria (Probiotics) and prebiotics tailored for Asian kids' gut microbiome.
The formula is designed to promote a healthy digestive system, alleviate digestive discomfort, and address concerns related to sensitive skin and eczema. G-NiiB Immune Kids SIM03 also includes nutrient intensifiers such as Calcium Acetate and Zinc Acetate to further support immune function.
Maintain healthy digestive system / gastrointestinal function
Relieve digestive discomfort
Relieve sensitive skin and eczema
Suggested Ingestion:
For daily use, take one sachet per day. Consume with meals, add directly to water, or mix into food and non-alcoholic, non-carbonated drinks (below 45°C) before consumption for optimal results.
Precautions:
Keep out of reach of children.
If your children are allergic to any of the ingredients in this product, please contact the physician before use.
Take the product at least 3 hours before or after taking antibiotics, or as advised by a physician.
Serving Per Package: 28
Serving Size: 1 sachet ( 1.5g )
Per Serving
| | |
| --- | --- |
| Energy | 2 kcal |
| Protein | 0 g |
| Total Fat | 0.1 g |
| Saturated Fat | 0 g |
| Trans Fat | 0 g |
| Total Carbohydrates | 1.1 g |
| Sugars | 0.1 g |
| Dietary Fiber | 1 g |
| Sodium | 0 mg |
| Calcium | 9.2 mg |
| Zinc | 0.2 mg |
Ingredients:
Maltodextrin (Prebiotics)
Oligosaccharide (Prebiotics)
Xylitol (Prebiotics)
Probiotics Blend developed by a Local University (1 billion CFU/sachet)
Calcium Acetate
Zinc Acetate
Unique Features of G-NiiB Immune Kids SIM03
Product Safety
Halal Certified
Non GMO (Genetically Modified Organisms)
No Artificial Flavours
and Colorings
SIM03 Formula Clinical Efficacy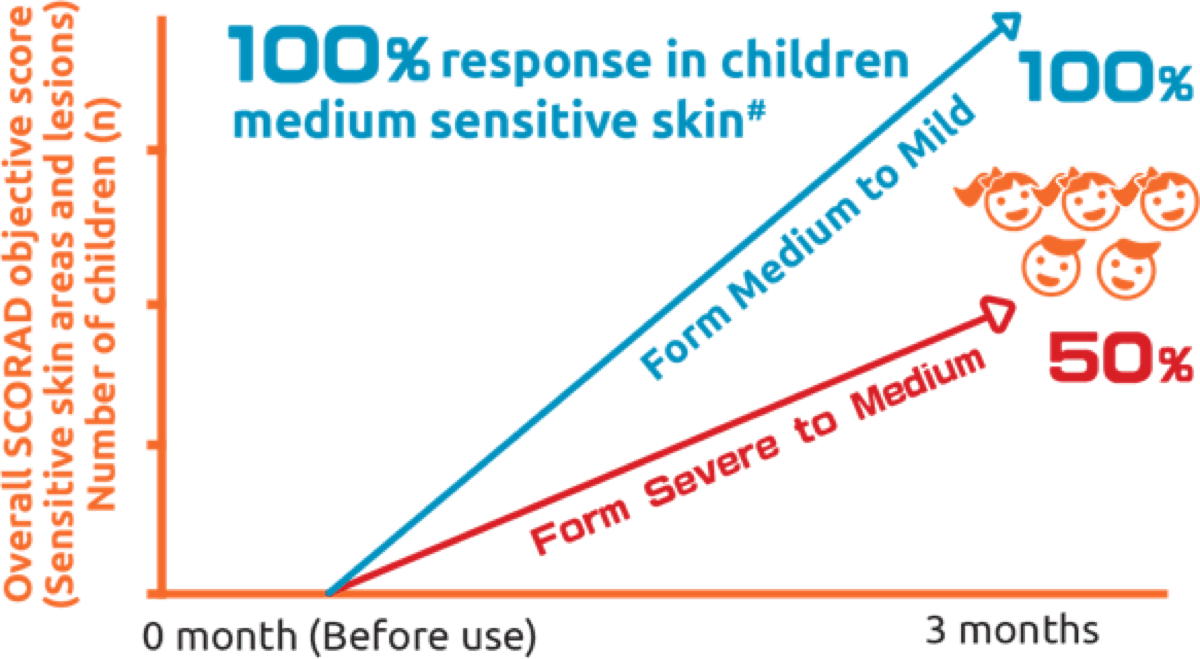 SIM03 Formula Clinical Efficacy
A pilot study was conducted on SIM03 on the efficacy of symptoms relief of eczema. The formula is proven to:
Reduce severe sensitive skin conditions to moderate by SCORAD score by 50%.
Reduce medium sensitive skin condition to mild by SCORAD score by 100%.
Reduce the impacted skin site area by 38.9%
Improve the quality of life by 53% in below aspects:

Itching and scratching.
Disturbance in bathing.
Sleeping problems.
Disturbance in dressing.
Disturbance in sports activities.
Treatments problems.
Awards & Recognitions
Our commitment to quality and innovation is evident in the awards our product has received.
Testimonials
Hear What Our Customers Are Saying About G-NiiB
Bowel movements become more regular and my energy level has improved. I still feel its effects after more than 3 months.
After taking formula, the immunity improved, and the gastrointestinal sensitivity problem also improved.
Smooth bowel movements, vitality also improved.
Discover Our Clinical-Backed Probiotics
Experience the synergy of science and nature with our range of probiotics, meticulously formulated based on extensive clinical research.
BUY NOW
FAQ
01
Why do children need a unique probiotic formula?
Studies highlight that gut microbiome diversity varies not only across ethnicities, such as between Asians and Westerners, but also between different age groups. Our G-NiiB Immune Kids SIM03 leverages cutting-edge metagenomic sequencing and advanced AI analytics to craft a formula that nurtures the immune system of Asian children specifically, promoting what we like to call 'rainbow immunity.'
02
Is there a risk of dependency with long-term use of G-NiiB Immune Kids?
Our formula, G-NiiB Immune Kids SIM03, is backed by rigorous clinical trials from the Faculty of Medicine at The Chinese University of Hong Kong and has been found to be safe without any reported cases of dependency or adverse effects.
03
When can you expect to see improvements?
In clinical trials, a majority of kids began showing positive changes after one month on G-NiiB Immune Kids SIM03. However, individual responses can vary. For personalized advice, it's best to talk to a healthcare provider.
04
Could children without sensitive skin take G-NiiB Immune Kids SIM03?
Yes. While G-NiiB Immune Kids SIM03 is effective for easing skin sensitivity, it's also designed to support a healthy gut microbiome. This support is crucial for developing a strong immune system, essential for a child's growth and well-being.
05
Can G-NiiB Immune Kids SIM03 be used with other sensitive skin treatments?
Yes, G-NiiB Immune Kids SIM03 is formulated to be compatible with other sensitive skin treatments. Always consult with a healthcare professional for guidance tailored to your child's health needs.